She's a doctor by day, farmer by all other hours | Lifestyles
13 min read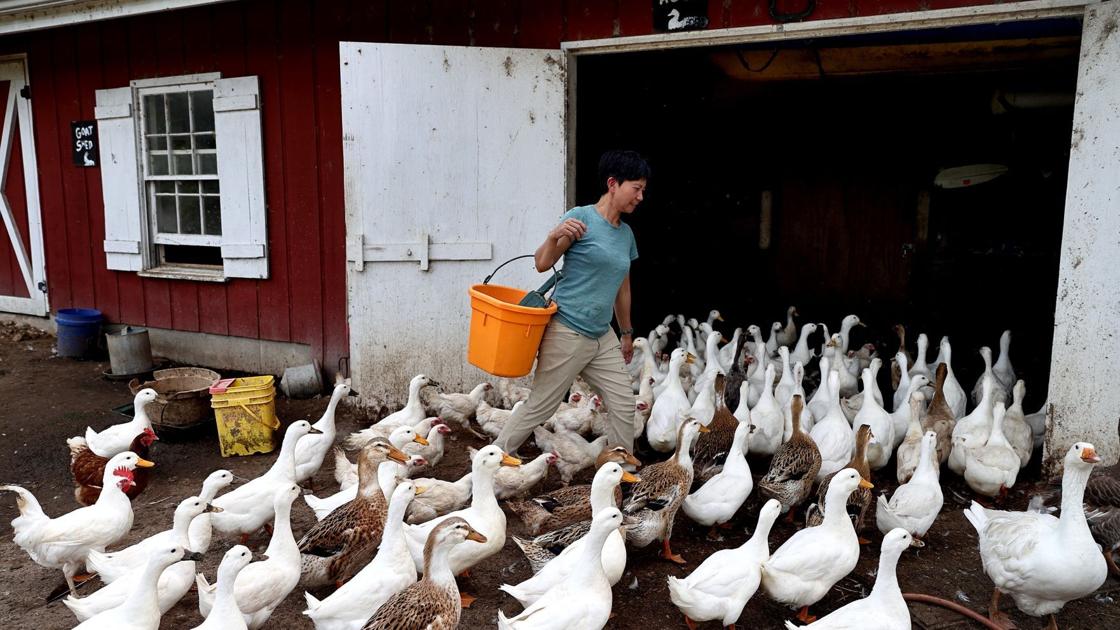 Five days a week, from before sunrise to past sunset, Rosalie Truong is a gentlewoman farmer on 90 acres of land she owns in Labadie. "I prefer to be called a 'producer,'" she says, emphasizing that she produces food products for consumption and fiber products to wear.
Nearly every day, Truong, 53, pulls up in her Tacoma pickup, boots on, ready to put her diminutive frame to work. She collects eggs from her 500 quail, 500 chickens, 120 ducks and 60 geese. Then she takes the eggs and returns 50 miles to her home in Lafayette Square where she has lived since 1988 with her husband, Dr. James McCarter, and their two sons, Alex, 15, and Ernest, 20. In the morning at 4:30 she wakes up to begin the task of washing the eggs by hand. "It is like my meditation time. If I do not do it, the rest of the day seems awkward," she says. She'll use that time to consider her plans for the day, for her farm, for her animals.
"Sometimes I sing along to the tunes of the Statler Brothers, the Eagles, George Strait."
Then she returns to the farm where afternoons may find her shearing some of her 30 sheep or a few of her 100 or so German angora rabbits, a breed known for high fur yields.
Or she may be hand spinning the sheared wool before dyeing it and sending it off to be turned into the socks, scarves, earmuffs, mittens or angora yarn, all of which she sells. Dyeing is where her chemistry background comes in handy, helping her gauge how different dyes will bond with the fiber. "No one can match what I do with fabric colors," she says. "Secretly I really want to be a fiber artist."
Or she may be delivering her chickens or picking up her processed chickens in Versailles, Missouri. Or she might be delivering goats (she has a herd of 100) for processing to a plant in Dittmer, Missouri. Or she might be delivering goats to the Muslim, Bosnian, Filipino or Pakistan communities which do their own processing. Or she may be dropping off eggs to the restaurants she serves in the St. Louis area. Or she may be making French madeleine cookies, or Vietnamese coffee or Vietnamese pastries.
On Saturdays she, with a little help from her family, will be selling her food and fiber products at a booth at the Tower Grove Farmers Market from 8 a.m. until noon. Or you will find her at the S.O.L. Maplewood Farmers Market on Wednesdays from 3:30 to 6 p.m., and periodically at the Wildwood or Labadie Point Farmers Markets.
If you think those chores are enough to fill a week, you might be surprised what she does the two days of the week she is not at the farm.
"On Tuesdays and Thursdays, I do my 'doctor thing,'" she says. That would be when she morphs into Dr. Rosalie M. Truong, dons her scrubs, and becomes an obstetric anesthesiologist at St. Luke's Hospital in Chesterfield.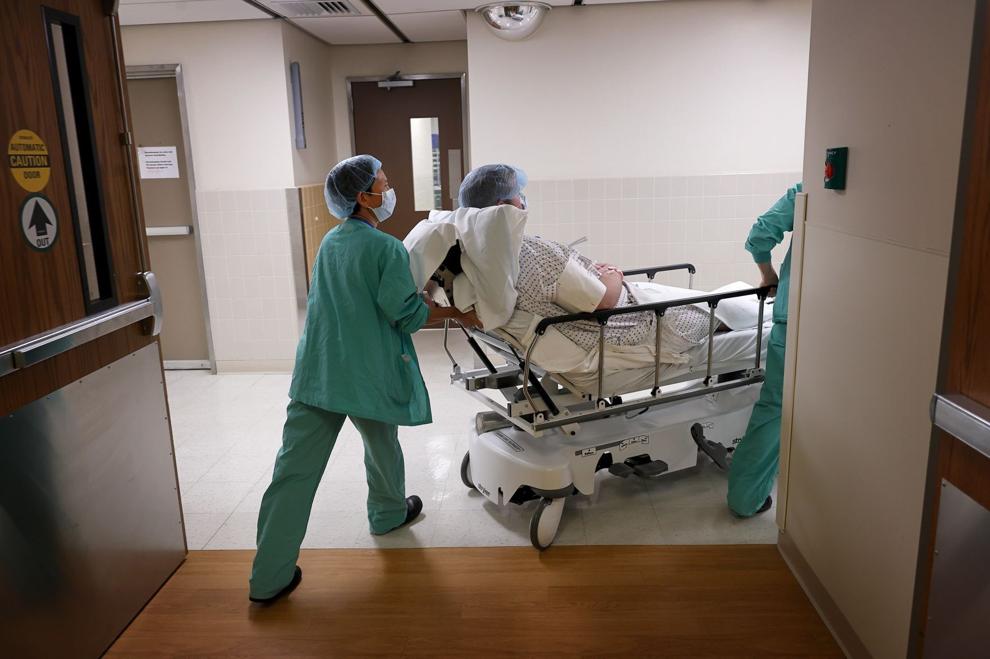 "I can get by with only four hours of sleep," Truong volunteers anticipating the question as to whether she ever sleeps.
Watching his mother go-go-go has been enlightening for son Ernest, who will be a sophomore at Princeton University. "My mother is definitely a role model for me," he says. "I would say that both of my parents have inspired me to push myself inside and outside of academia. What I admire the most about my mother is how she pursues the things that make her happy. I think her work ethic is indicative of the amount of love she has for what she does."
How her unusual combination of jobs came about, and how she ended up in the United States and in St. Louis is a remarkable story unto itself.
Truong was born in Vietnam during the Tet Offensive in 1968 to parents who were both physicians. By 1975 the new government had shifted to Communism and her parents decided to depart Saigon and immigrate to France so Rosalie and her two brothers would have a better opportunity to thrive.
"We all had French citizenship and passports even though we had never been to the country," she remembers. "Years earlier our family had been granted French citizenship due to my great-great grandfather. It was a 'thank-you' for his efforts to establish a peace treaty between Vietnam and France."
After living seven years in France, her parents sent Rosalie to California along with her 21- and 18-year-old brothers to become U.S. citizens, and build their futures on their own. "It is not uncommon in the Vietnamese culture to send children to a country where they might have a better life," Truong says. "My older brother watched after me in our apartment, but I have been pretty much on my own since I was 14."
In high school in California, her love of animals led to an animal science major at the University of California at Davis in 1990. However, two years before graduating she had attended a summer program for students who want to immerse themselves in genetics and genomics research where she met Dr. Edward Birkenmeier from the Washington University Medical School. He encouraged her to come to St. Louis and study to become a doctor.
"He was unknowingly reinforcing what my father wanted me to do," she recalls. "In the Vietnamese culture you always want to please your parents, and my father had been afraid I would have to pull calves out of cows as a veterinarian and had tried to dissuade me from the profession."
Truong enrolled in Washington University Medical School in 1991 on a full scholarship, arriving in town with 12 angora rabbits, two dogs, two cats and a litter of baby rabbits. She rented a house in Richmond Heights and kept the rabbits in the garage.
She earned her medical degree as well as a doctoral degree in cell and molecular biology in 2002 and has worked at St. Luke's in Chesterfield ever since.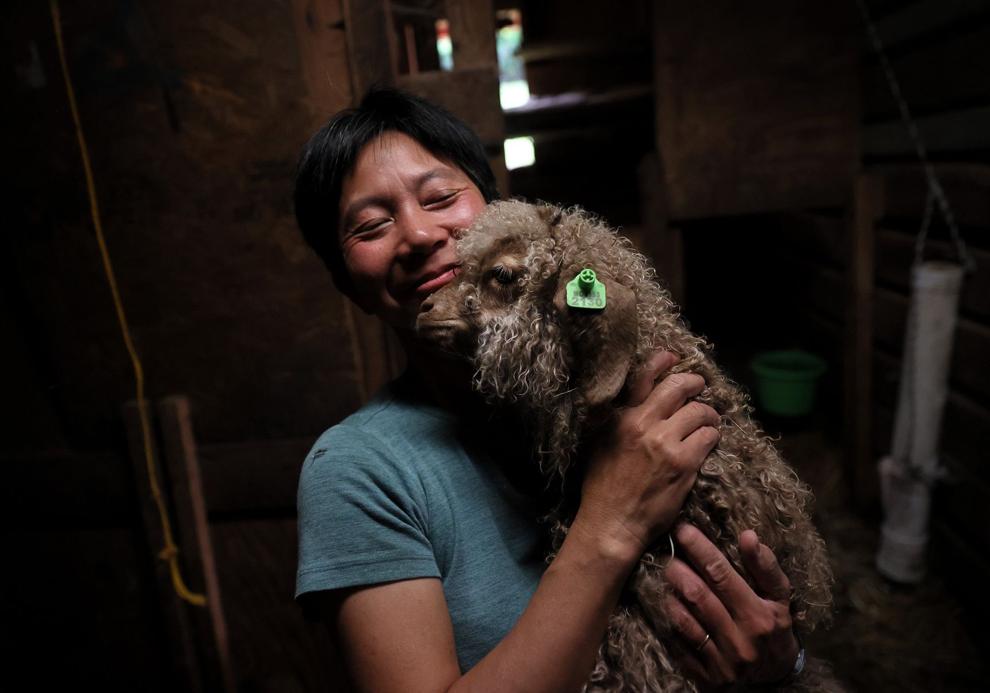 But her love of animals and a desire to own a farm never diminished. In 2008 at age 40 her double life as a physician and as a farm-to-fiber and farm-to-table producer began after she purchased 6 acres in Labadie, which she refers to as the "little farm." A few years later the "big farm" of 82 acres was acquired just up the road. The first hooved animals she purchased were 12 angora goats in 2012.
Today the farms have grown to where she needs assistance. "With over 2,000 animals, just to deliver their food I was walking seven miles a day," she says. Now she has four people she refers to as "feeders," and a property manager who lives in the 1930-era white frame farmhouse on the property.
Her degree in animal science helps her maximize the production of her animals, yielding an optimum crop of everything from eggs to offspring to production of a healthy yield of wool. "I understand them," she says. "If they are happy and content, they produce eggs, wool and babies."
Recently she gave in to her plan to not use mechanized machinery when it became too much wheelbarrow work moving food and manure up and down the hills on her property. A tractor now helps ease the workload, and an ATV is being considered.
Four Anatolian shepherd dogs help protect the farm animals, which for the most part are able to roam the farm. "The dogs ward off any fox, bobtail cat or coyote," she says. "However, we will occasionally lose an animal to a bird of prey."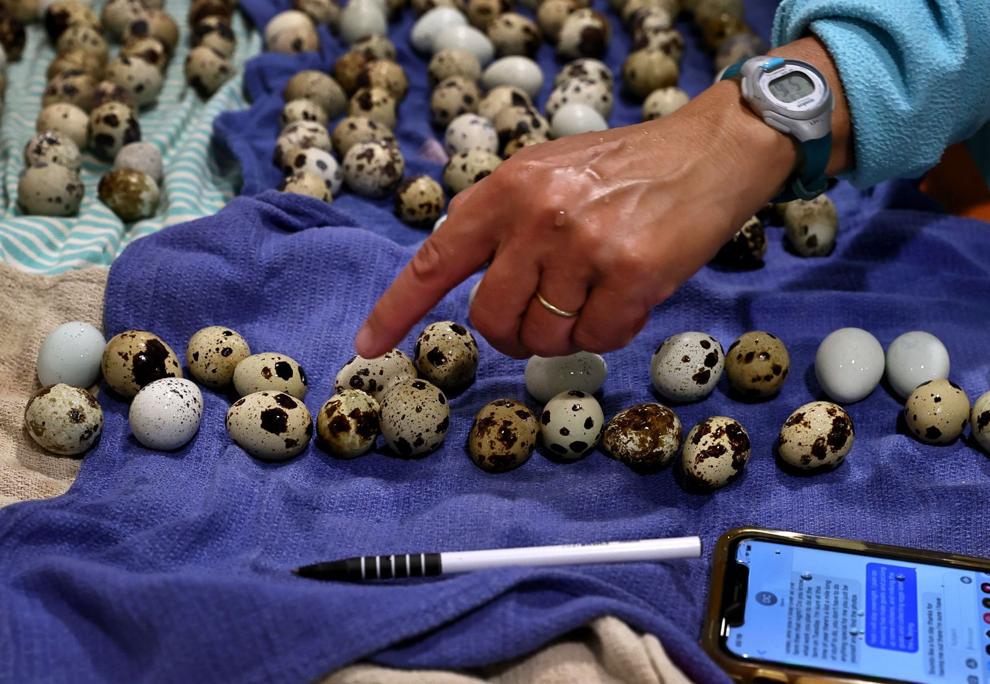 Those losses touch Truong, who has a special place for each of her animals. "Mom loves and cares about every single one of her animals," says son Ernest. "She sees things that I would never notice. She can look at a flock of birds and recognize which ones are sick or have an injury, and she'll go out of her way to help each and every one. She has a very deep passion for animals and helping them."
So maybe it's not that different than being a doctor after all.
And by the way, if you want to rent her goats to graze your property and clear a field, or learn how to dye fabric, or purchase some nutrient-rich goat manure, or camp next to her five-acre lake, or take a farm tour, call her.
"I like my days to be full. When I die, I want to know I have lived a productive life," Truong says with a big smile and a laugh that can be heard throughout her farm.
Her younger son, Alex, 15, also appreciates his mom's work ethic, but maybe not all of her ideas. "She cannot seem to just sit still at home. She is always talking about doing something new. Lately she has been talking about getting a water buffalo, but I do not think that is a good idea."
Photos: Rosalie Truong, doctor and farmer, always on the move